Didžiausias optikų tinklas Lietuvoje.
Atspausdinta iš www.optikospasaulis.lt
Optikos pasaulio įranga oftalmologijai
"Optikos pasaulyje" naudojama moderni Shin Nippon akių diagnostikos aparatūra. Jos dėka galima tiksliai ir greitai ištirti regėjimo sutrikimus, įvertinti akių būklę ir greitai parinkti reikiamą regėjimo korekciją - parinkti akinius bei kontaktinius lęšius, nustatyti jų stiprumą, bazinę kreivę ir kt..
Accuref K 9001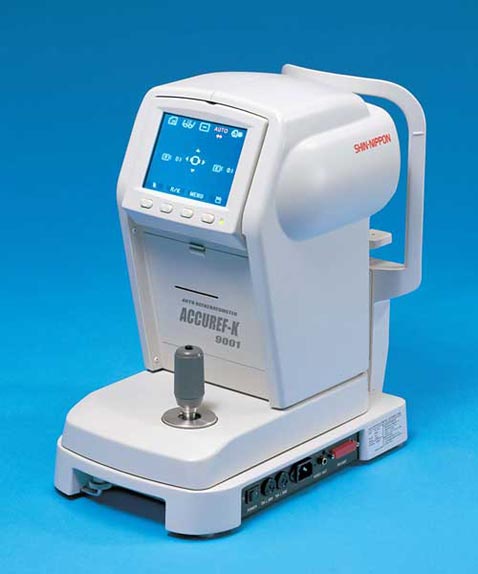 * Clear 5.6 inch LCD color monitor
LCD color monitor produces superb colorful display of the icons for easier identification to select your desired choises for measurement .
* 3 step monitor angle
Monitor angle can be tilted in 3 steps that allows confortable operation for both standing and sitting positions .
* Wide measurement range
Wide measurement range of Sph - 25.00D to +25.00D , Cyl - 10.00D to + 10.00D .
* 2.3 mm Minimum pupil diameter & 3 step Target light adjuster
Allows you to measure much smaller pupils than conventional units and 3 step Target light adjuster ensure accurate results .
* Auto start function
Auto start function allows measuring automatically when alignment meets measurament requirements .
* Kerato-Peripheral measurement
4 plots of cornea can be measured .
* Quick measurement function
Quick measurement function realizes 1-10 times countinous measurement by pushing the measurement buttom once .
* Data screen function
Measured data can be seen on the monitor without printing .
* Quick printer with automatic cutter
Printer paper is automatically cut when it is released
* Contact lens base curve measurement
* Far pupil distance measurement and near pupil distance calculation.
* RS 232 C setting function
* Output external monitor
* Power saving function
---
Slit Lamp
SL 102
Total magnification : 10X , 16X
Slit diaphram : 10, 6, 3, 1 and 0,2 mm.
Filters : Cobalt blue, heat absorption, 50% neutral density, light blue .
Slit rotation : 0° to 180°.
Slit tilt : up to 20°
Light source : 6V , 27W tungsten lamp.
Optional halogen lamp 6V 20W is available .
Tonometer : it is possible to use Goldmann Applanation Tonometer T900 or ours .
With optionals 16X eyepieces the total magnification are 16X and 25.6
---
PD Meter


PD 82 II

* LED lamp eliminates troublesome lamp replacement and makes battery life become as 3 or 4 times as longer than our older model .
* Lever action becomes smoother by using linear sensor .
* Results are displayed digitally . Three measure are given : right . left and right + left .
* Measurement can be made for a single eye or for both eye .
* Possible to measure PD from infinity to 30 cm. near vision continously .
* Automatically switch off one minute after operation is completed .
* Distance from tops of cornea to lenses of frames can also be measured .
---
Chart Projector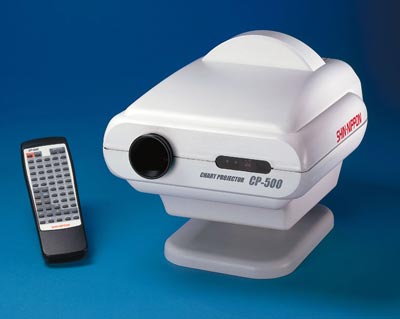 CP 500
* 50 chart and various masks : Landolt, letter, child, Snellen, number
* Fast, silent chart disk rotation
* User program mode : 2 kinds of program can be selected
* Room light switch : by using optional deviator, operation of a room light is available by remote control
* Adjustment of the brightness : it can be adjusted according to the brightness of the operation room